2001 -2005 High tech company
Expansion of production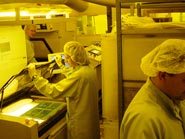 The number of orders increased more quickly and a lot of new staff were employed. Several times each year, investments were made in new production systems. Month for month, space became scarcer and scarcer. In 2001, it finally became necessary to rent the entire 1st floor. The office moved upstairs and production now had the entire basement available.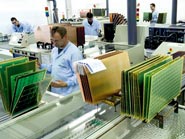 However, two long-term solutions were already being planned: a move into new rented premises or an attempt to finance the construction of a new building. It soon became clear that the rented premises option was not the best one. New premises should be built!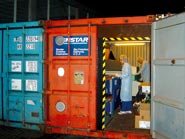 As a short-term emergency solution, in 2005, the space in front of the building was rented to place containers for production. A total of 10 containers were set up and equipped with a variety of production systems. The staff now had to walk across the yard in snow and ice, wearing their clean-room clothing.
Variety of products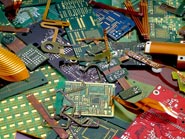 When production started of complex to very complex circuit boards (blind vias, buried vias, SBU circuit boards) the company today covers almost the entire range of product technologies available on the market. The combination of high quality and express delivery with reliable delivery dates is the basis for ongoing growth. We want to continue to be the fastest manufacturer of printed circuit boards in Europe.
Berlin-Brandenburg quality prize 2002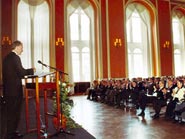 The Berlin-Brandenburg quality prize was awarded by Berlin's senator for industry, work and women, Gregor Gysi and by Brandenburg's minister for industry, Wolfgang Fürniß.

They recognised the outstanding results from the practical implementation of quality management. The jury especially emphasised: "High quality was produced at CONTAG at a tremendous speed. Total Quality Management (TQM) is firmly anchored in all levels of the company.
"Conti" becomes CONTAG GmbH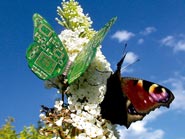 On 1st April 2005, "Conti Leiterplatten" (sole trader) became "Contag GmbH" (limited company). A new corporate identity with a new logo was developed. A circuit board butterfly was designed and chosen as a mascot which the staff promptly christened "CONny". This butterfly should not just bring the company luck, but should symbolise the lightness and liveliness of CONTAG services.
Planning for the new building
The entire CONTAG team can hardly wait to move to the new building as they have been working towards this date for many, many years. It was only due to the high personal commitment of every single member of staff in their daily work, that the the quality of the circuit boards, the reliability of the delivery dates, the customer satisfaction and thus the turnover could be increased. When the company finally moves in, every member of staff will certainly be proud of what they and what the team as a whole have achieved.
Your personal contact

Guido Strehl
Assistant to the general
manager
+49 30 351 788-225
guido.strehl

contag.de
Download
Quick-Links