Leisure time, entertainment

What else is there to do in Spandau? How about a trip to the cinema, shopping in the largest centre in Berlin/Brandenburg or just relax in the wellness centre? There are a few ways of experiencing Spandau after the meeting, or over the weekend, and getting to know it.


In Spandau there are two large and new fitness and wellness centres. Quite close to CONTAG, in the Spandau-Arcaden shopping centre (about a 15 min. walk away) you can relax in the Meridian spa, enjoy a massage, or energetically work off the day. There is a second centre in the Centro-Vital with a sauna park, thermal baths and a fitness centre. Both centres are open till 23:00. Very enjoyable, in a relaxed atmosphere.


Meridian Spa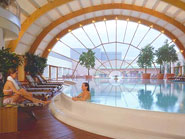 Address: Klosterstraße 3, 13581 Berlin
+49 30 3539070
Internet:
www.meridian-spa.de
Centro-Vital Berlin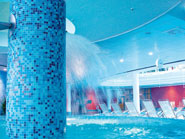 Address: Neuendorfer Straße 25, 13585 Berlin
+49 30 81875-100
Internet:
www.centrovital-berlin.de
Cinema

CINEPLEX Spandau
Address: Havelstraße 20, 13597 Berlin
Tel: 0180-5050211
Internet: www.cineplex.de


Description: Several cinemas under one roof, directly in Spandau's historic town centre, new and modern. Opening times: Daily from 10:00 to 23:00 Location: about 5 minutes walk from Spandau railway station, right next to Altstadt Spandau U-station

Shopping

Outlet Centre
Only 20 minutes away by car, there is the largest outlet centre in Berlin/Brandenburg. Designers such as Joop, Hugo Boss and Italian fashion designers can be found in the shopping centre, directly on the B5 road.

Shopping Centre
If you would like it a little closer, then Spandau Arcaden is a good place to shop. Spandau Arcaden, approx. 15 to 20 walk from CONTAG, combine well-known shop chains, cafes and restaurants.

Historic Centre
A little further, in Spandau's historic centre, there are other well-known department stores such as Karstadt and C&A.

Your personal contact

Guido Strehl
Assistant to the general
manager
+49 30 351 788-225
guido.strehl

contag.de
Quick-Links