CONday technology forum
Search
Impressions from CONday 2007
Many thanks to all of the visitors to CONday
CONday 2007 is now over and, thanks to the many visitors and positive opinions, was a complete success. At this point we would like to offer our thanks for all of the visitors who came.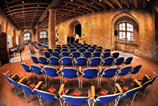 A few facts to CONday 2007
200 participants in the technology forum from all over Germany
More than 800 visitors to the inauguration of our new premises in the afternoon
120 guests for the Berlin city tour on 7th July 2007


As a small gesture, we have selected the best moments from the technology forum, from the inauguration, the tours and the city tour. In the following sections, you will find photos, videos, presentations from the technology forum, press reports and visitor opinions on CONday 2007 in Berlin. We are already looking forward to seeing you again at CONday 2008.
Visitor's opinions on CONday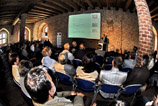 Frank Discher, Vectron International
: "The technology forum gave me a very good insight into the current state of the art. Especially the illustration of the limits of the precision of HDI technology and the options to reduce costs through finer tracking, with fewer layers was very interesting. All of the presentations were clear and easy to understand."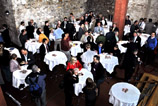 Peter Gemeinhardt, Mechaless Systems GmbH:
"As HDI is new to me and I haven't yet produced a layout in this direction, this forum was of course really interesting for me. The various examples of circuit boards made it clear to me that there are so many options available and that not just the circuit boards, but that you and I can also be very flexible."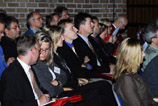 Hans-Ulrich Resch, Kristronics GmbH:
"The CONday 2007 on 6th July 2007 was an interesting day. The start was very impressive, with the technology forum in Berlin-Spandau's historic Zitadelle. I learned something from the technology seminar held by your staff and other speakers. The presentations held by your staff on new technologies centring on HDI showed the level of knowledge at CONTAG."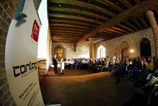 Rainer Asfalg, Mentor Graphics:
"The CONday was a complete success for us too. I very much enjoyed working together with CONTAG and with the entire team. Personally, I would like to offer my thanks again for the perfect organisation and the excellent catering."
With kind support from